GENERAL INFORMATION
Home : General Information
Go to: Commonly Asked for Information | Forms and Links | Public Service and Copies | Subscribers
Commonly Asked for Information
The Rapides Parish Clerk of Court is open Monday through Friday, except legal holidays, from 8:30AM to 4:30PM. The Clerk's Office is located on the first floor of the Rapides Parish Courthouse. The parking garage entrance is on Foisy Street and additional parking is available at the lot on the corner of Washington and 8th Streets.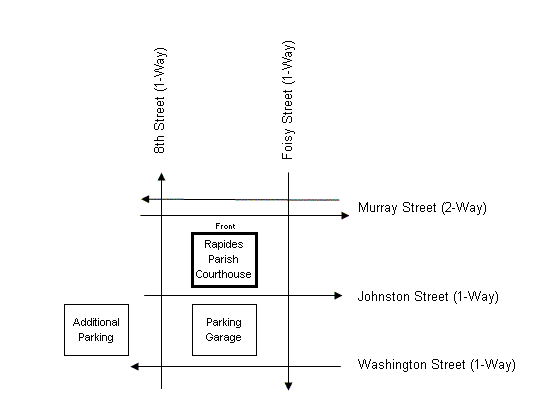 Bankruptcy Court
318.445.1890
Bar Association web site
800.421.5722
Bar Card and ID Badge
318.449.5105
Bonds, Fines, and Traffic Tickets
318.473.6717
Building Permits
Inside Alexandria City Limits 318.473.1297
Inside Pineville City Limits 318.449.5660
Outside Both City Limits 318.487.5401
Business License web site
Inside Alexandria City Limits 318.445.0296
Inside Pineville City Limits 318.449.5660
Outside Both City Limits 318.445.0296
Constables directory web site
web site
Court House Information Desk
318.473.6600
District Attorney
318.473.6650
Judges Office web site
318.443.6893
Liquor License
318.445.0296
Probation and Parole - State - Alexandria Office
318.487.5301
Rapides Legal News
318.640.0978
Rapides Parish Jail
318.473.6751
Registrar of Voters
318.473.6770
Tax Assessor
318.448.8511
Public Service and Copy Information
The Public Service Department's primary function is to greet the public and to help the public obtain the information it is requesting.

The following requirements are to help us serve the public more efficiently and accurately. These requirements will cut down on errors that might be made by either our office or the requesting party. If you have any questions, you can reach us at the numbers listed below. We look forward to better serving you.

Public Service Copy Fees and Requirements:

Accepted payment methods: Cash or check made payable to Rapides Parish Clerk of Court.
All request for copies must be in a written request or in person. No phone orders will be accepted. (A self addressed stamped envelope must accompany all request).
Civil/Suit copies are $1.00 per page and $5.00 for certification.
Recording copies are $1.00 per page and $10.00 for certification.
Act of Congress: copies are $1.00 per page and $5.00 for certification.
Searches: One Name-One Index $20.00; $10.00 each variation of name.
Extracts of Court Minutes are $10.00 per docket and $5.00 for certification..
Requests may be faxed to 318.473.4667, attention Public Service.
Fax copy fees: Local $1.00 per page. Long distance $2.25 per page.
Copies for the general public must be paid for in advance. If a request comes in by fax, we will call or fax with the amount due. Once payment is received, copies will be sent out.
Any charges to an attorney or firm must be initialed by whoever picks up the copies. No copies will be put in the court house box until the charge account is initialed.
No legal descriptions, legal documents, proceedings, etc., can be read over the phone.

Appeals - Preparation of Appeals is handled by the Appeal Department. In accordance with the Uniform Rules of the Court of Appeal, Third Circuit, State of Louisiana, the Clerk of Court is responsible for preparing the appeal. The Public Service Department can make copies of an existing appeal, however, Public Service does not prepare the appeal for the appellate court. Cost are in accordance with 13:841. All questions regarding appeals, including cost, should be directed to the Appeal Department at 318-619-5851.


Public Service Contact Information:


Laura - Supervisor
Chase
Dallas
Chad
Donovan
318.619.5846
318.619.5845
318.619.5847 Marriage License
318.619.5831 Birth Records
318.619.5848
Forms and Links
These are the only forms available.